Are you in the mood for a mouthwatering chicken wrap? Look no further than this Simple Barbeque Chicken Wrap! This delectable meal can be prepared in no time using tender chicken breast chunks, tangy BBQ sauce, fresh arugula, red onions, tomatoes, and cheese, all wrapped up in a warm tortilla. Whether you need a quick lunch or dinner option, this wrap is sure to satisfy your cravings.
A Wholesome Combination
The best part about this wrap is its versatility. You can enjoy it hot or cold, and it's even great for meal prepping. The juicy and tender boneless chicken breast chunks are seasoned with a simple and flavorful blend of spices before being tossed in your favorite BBQ sauce. While the BBQ sauce adds incredible flavor, don't forget to season your chicken for that extra punch. Feel free to customize this recipe by adding any additional ingredients you have on hand. You can also experiment with different types of tortillas, such as spinach or sun-dried tomato.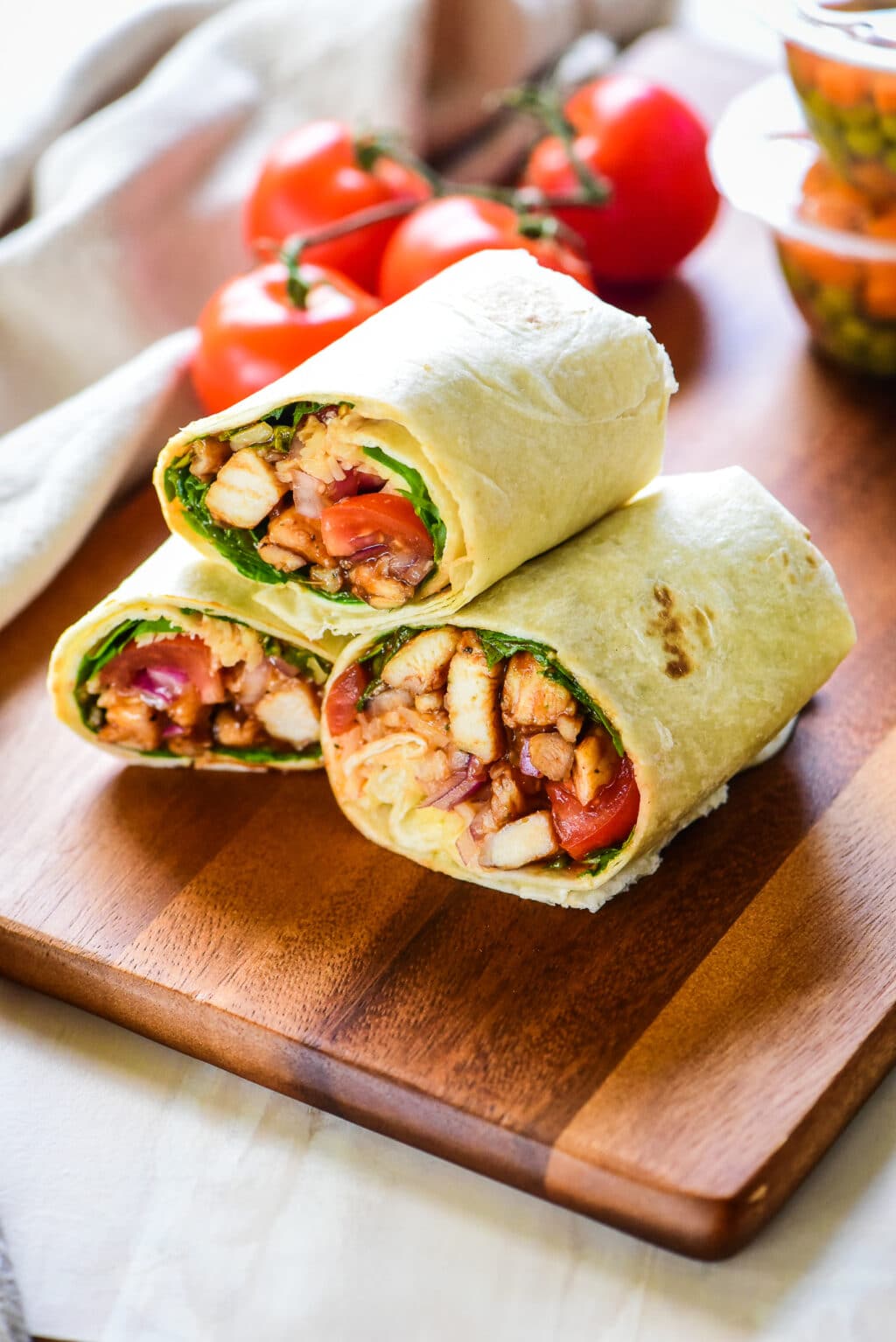 The Ingredients You'll Need
To recreate this mouthwatering BBQ chicken wrap, gather the following ingredients:
Boneless chicken breast seasoned with all-purpose adobo seasoning, chili powder, smoked paprika, cilantro flakes, garlic powder, and black pepper, then tossed in BBQ sauce.
Your choice of BBQ sauce, whether homemade or store-bought.
Large burrito-size flour tortillas to accommodate all the ingredients and allow for a tight wrap.
Fresh baby arugula, diced tomatoes, and diced red onions for a burst of flavor and texture.
Shredded sharp cheddar cheese or any cheese of your preference to add the final touch.
Creating the Perfect BBQ Chicken Wrap
Don't worry about following a strict recipe for this wrap. Once you've cut and pan-fried two chicken breasts, the rest is a breeze. It's even easier if you have leftover chicken or a store-bought rotisserie chicken on hand.
To assemble the wrap:
Lay a flour tortilla flat on a surface.
Layer your ingredients, starting with arugula, diced tomatoes, BBQ chicken, red onions, and cheese. Keep your ingredients about 1 inch away from the edge of the tortilla.
Fold the tortilla flap closest to you over the filling, then fold in the sides. Roll the filled tortilla away from you, ensuring it stays tight to create a wrap. Place it seam side down.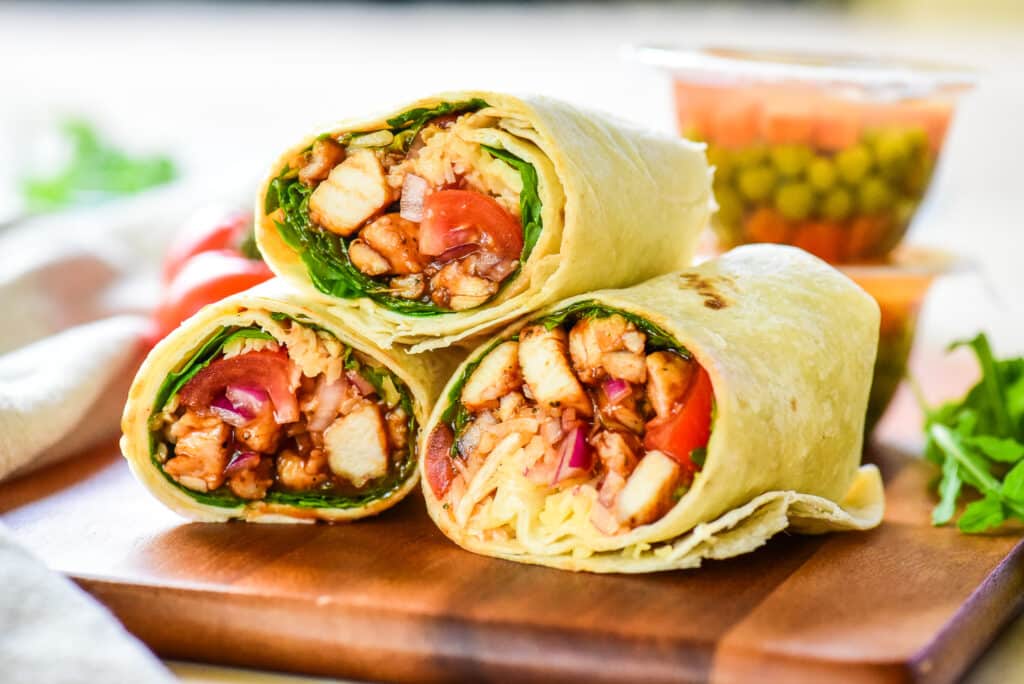 This wrap combines all these fantastic ingredients within a large flour tortilla shell. The softness of the flour tortilla makes it easier to fold and keep everything deliciously intact. Enjoy it for lunch or dinner, and involve your kids in the preparation to turn it into a fun family activity.
Exciting Recipe Variations
Here are a few ways to switch up this BBQ chicken wrap recipe:
Use leftover or pre-cooked chicken, including rotisserie chicken.
Instead of regular flour tortillas, try spinach or sun-dried tomato tortillas. Get creative with flavors like jalapeno cheddar or opt for low-carb tortillas.
Want to skip the carbs? Make chicken lettuce wraps by replacing the tortillas with large lettuce leaves.
Warm your tortillas for easier handling. Place them on a microwavable plate and cover with a damp paper towel. Microwave in 30-second intervals until warm. Alternatively, lightly toast the tortillas with a little butter in a warm skillet.
Feel free to substitute sharp white cheddar with Gouda, Monterey Jack, Pepper Jack, or Colby cheese.
These homemade BBQ Chicken Wraps are packed with flavor and are perfect for those days when you need to put a delicious meal on the table quickly and effortlessly.
Want to try more easy sandwich recipes? Check out Dudethatcookz.com for Chicken Salad Croissant Sandwich, Spicy Cajun Crispy Chicken Sandwich, Italian Meatball Sub Sandwich, Chicken Parmesan Sandwich, Korean Beef Sloppy Joes, or Cajun Chicken Sausage Po Boy.
Print your copy of this mouthwatering BBQ Chicken Wrap recipe and get ready to indulge in a delightful culinary experience!