Are you craving fall-off-the-bone, super crispy chicken wings smothered in the most delectable savory, sweet, and spicy BBQ sauce? Look no further! In this article, we'll show you how to make mouthwatering crock pot chicken wings that are incredibly easy and mess-free. Whether you're hosting a party or enjoying game day, these slow cooker wings will disappear like magic!
The Game-Changing Honey BBQ Slow Cooker Chicken Wings
Prepare to have your taste buds blown away by this game-changing recipe. First, we'll toss the chicken wings in a simple spice mix, then pour over them a heavenly blend of spicy and sweet barbecue sauce. The slow cooker does all the work, resulting in perfectly tender wings. For that extra crunch, we'll broil them for a bit. With minimal effort and maximum flavor, these wings will be the star of any gathering.
To enhance your culinary experience, serve the crispy wings with a side of tangy ranch dressing or creamy blue cheese dressing. Add some carrot and celery sticks, and you've got yourself the ultimate game day snack, a fantastic appetizer for casual weeknight meals, or a delightful addition to your Super Bowl Sunday menu.
What You'll Need to Craft This Crockpot Delight
Let's gather the essential ingredients to create this tantalizing dish:
Fresh Chicken Wings: For this slow cooker recipe, we recommend using party wings or wings that are cut into drummettes and wingnettes. If you're considering using frozen chicken wings, we suggest thawing them beforehand for optimal flavor absorption.

Barbecue Sauce: Opt for your favorite store-bought BBQ sauce, or let your taste buds explore different flavors to find your perfect match.

Hot Sauce: We highly recommend using Frank's original hot sauce for that unbeatable combination of melted butter and wing sauce. However, feel free to experiment with your preferred wing hot pepper sauce.

Juice: Apple juice, apple cider, or even pineapple juice can be used in this recipe. In a pinch, chicken broth can also work wonders.

Dry Rub: Prepare a delightful mixture of brown sugar, garlic powder, smoked paprika, seasoned salt, onion powder, chili powder, and ground black pepper to take your wings to the next level.
Slow Cooking Wings to Perfection
Now that we have everything ready, let's dive into the cooking process:
Start by combining the dry rub ingredients.

Pat the wings dry with paper towels to ensure the spices adhere to them.

Place the wings in the slow cooker and toss them with the dry rub, ensuring each piece is coated.

Whisk the honey BBQ ingredients together and pour the mixture over the wings, thoroughly coating them.

Cover the slow cooker and let it work its magic for 2 hours on high or 3-4 hours on low.

Once cooked, you can enjoy the wings as they are, or for that extra crispiness, place them on a baking sheet with a wire rack under a broiler for 2-3 minutes per side until golden brown.

If desired, you can thicken the honey BBQ sauce with a cornstarch slurry. Instructions are provided as needed.
Crispy Wings, Anyone?
For those who crave extra crispy wings, follow these steps:
Line a baking sheet with aluminum foil and place a wire rack on top.

Arrange the slow-cooked wings in a single layer on the wire rack, ensuring they don't touch.

Place the wings under the broiler and broil for 2-3 minutes per side until they achieve that irresistible golden brown color.

Transfer the crispy wings to a serving bowl, and if desired, gently toss them with the honey BBQ sauce until well-coated. Alternatively, you can pour the sauce on top or serve it on the side for dipping.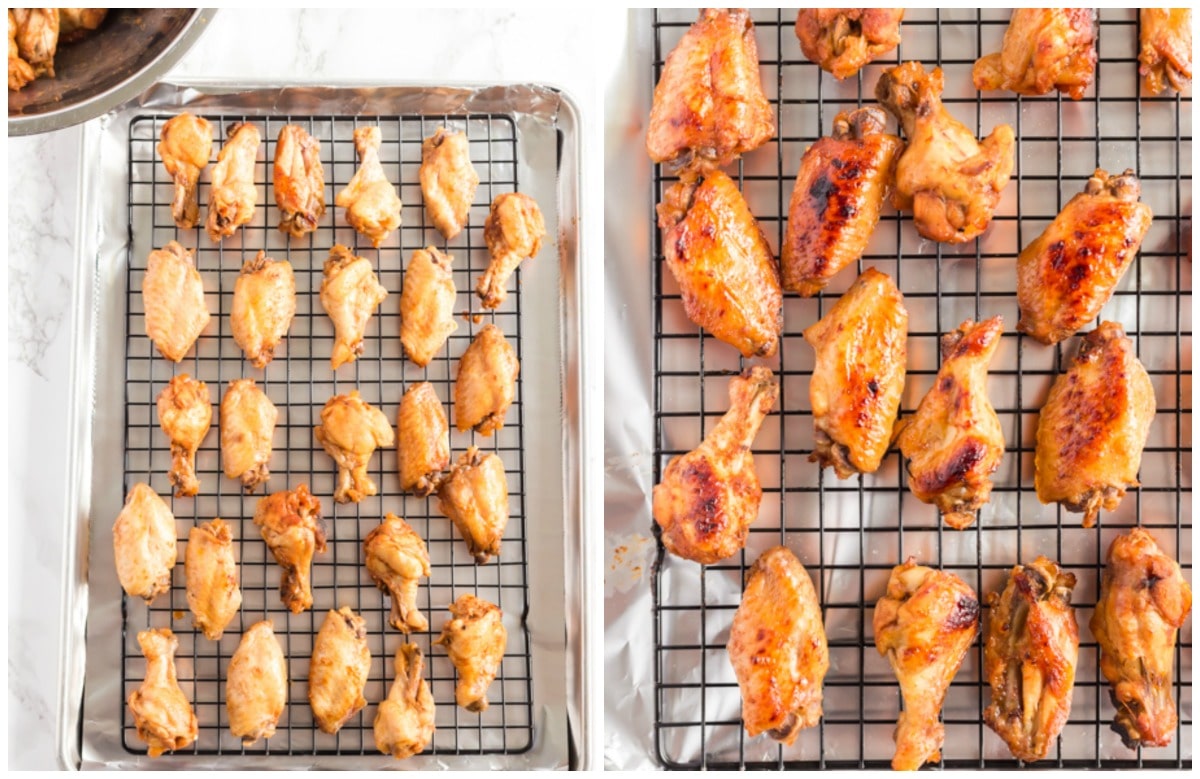 Can I Cook Frozen Chicken Wings in a Slow Cooker?
While you technically can cook frozen chicken wings in a slow cooker, there are certain considerations to keep in mind. Frozen wings are individually ice glazed, preventing the spices from adhering properly. Additionally, the ice glaze dilutes the honey BBQ sauce. For the most flavorful outcome, we highly recommend thawing the wings before cooking. However, if you choose to slow cook the wings while frozen, adjust the seasoning accordingly and thicken the sauce with a cornstarch slurry.
Raw Chicken Wings in the Slow Cooker?
Absolutely! You can put raw chicken wings in a slow cooker. Just make sure to cook them until they reach a safe internal temperature and are thoroughly cooked through.
Cooking Time for Chicken Wings in the Slow Cooker
For fresh chicken wings, the slow cooker should work its magic for approximately 2 hours on high or 3-4 hours on low. When cooking frozen wings in the slow cooker, adjust the cooking time to 3-4 hours on high or 5-6 hours on low.
Keeping the Wings Non-Soggy
To prevent any hint of sogginess, we recommend giving the wings a final touch under the broiler. The slow cooker ensures perfectly tender wings, while broiling them for a few minutes per side guarantees a non-soggy, golden brown and crispy texture.
Making Ahead, Storage, Freezing, and Reheating
Let's address some practical matters:
Making Ahead: Although wings are best eaten fresh, you can slow cook them and refrigerate them overnight. Before serving, make sure to remove the wings from the fridge at least 1 hour in advance. Then, broil them as directed in the recipe for maximum deliciousness.

Storage: Leftover wings can be stored in an airtight container in the refrigerator for 3-4 days.

Freezing: If you find yourself with leftover wings, fear not! These cooked wings freeze beautifully and will keep in the freezer for up to 2 months.

Reheating: To reheat your wings, preheat your oven to 325ºF. Place the wings on a baking sheet and tent them with aluminum foil. Heat them until they are thoroughly heated through.
We hope you enjoy these unforgettable crock pot BBQ chicken wings! For more delicious recipes, check out our website Rowdy Hog Smokin BBQ.