Give your smoked and grilled meats a burst of flavor with this delectable blueberry BBQ sauce. This homemade sauce strikes the perfect balance between sweet, spicy, and tangy, thanks to the rich blueberry flavor and warm spice blend. In just 15 minutes, you can whip up this sauce that will take your summer meals to new heights. Get ready to impress your friends and family at your next barbecue!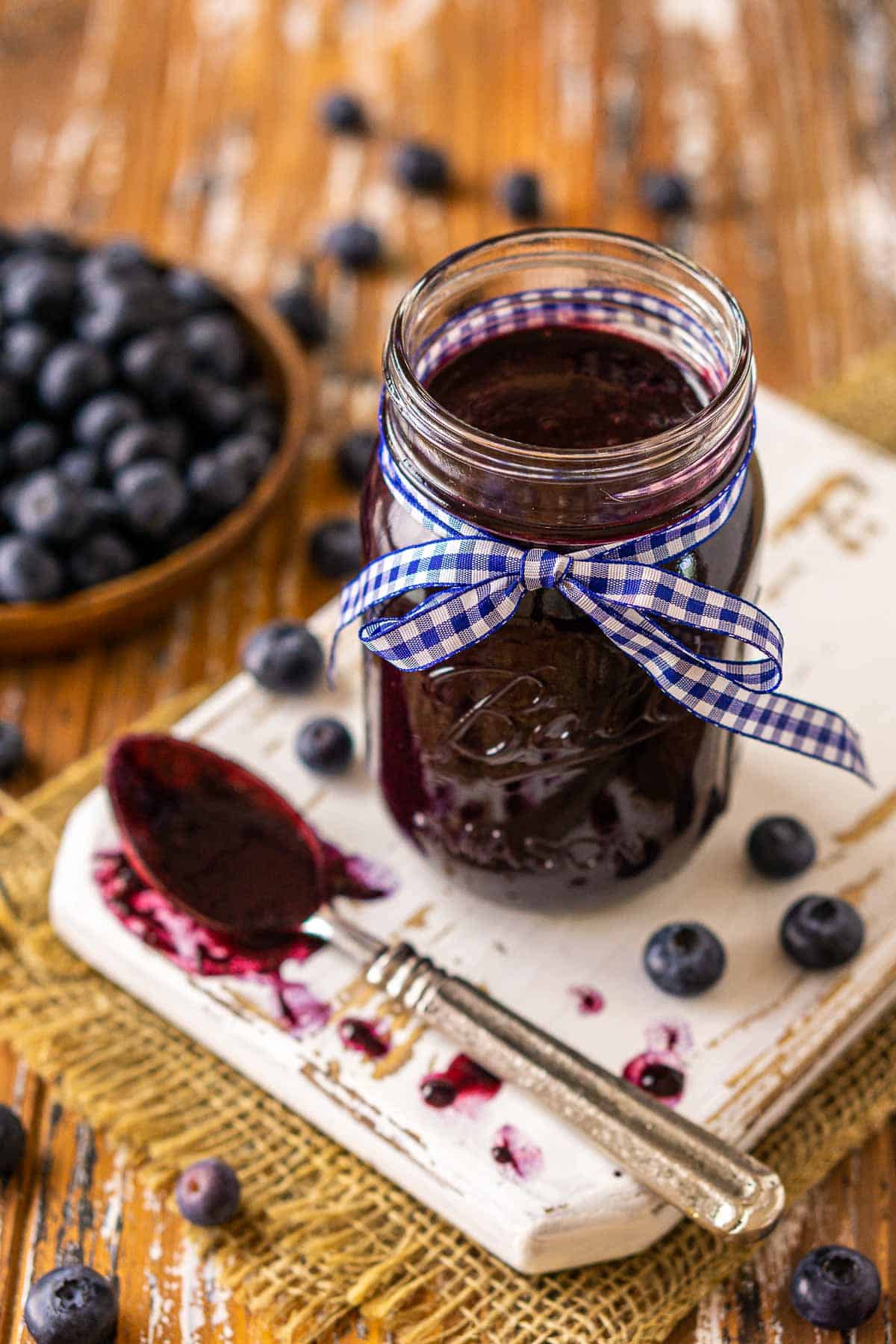 Why You'll Love This Recipe
Full of blueberry flavor: Unlike other fruit BBQ sauces that lose their fruity essence amidst a myriad of ingredients, this blueberry BBQ sauce emphasizes the fruit's natural sweetness while adding a kick of warm spice.
Unbeatable homemade goodness: While store-bought BBQ sauce suffices, it can't compare to the depth of flavor found in a homemade sauce. Once you experience the richness of your own creation, you'll never go back.
Quick and easy: Making your own BBQ sauce is not only tastier but also incredibly simple. If you can stir ingredients on a stove, you can master this sauce in no time.
Perfect for gifting: Take a break from hosting duties and surprise your barbecue hosts with a jar of this homemade sauce. It's a thoughtful gesture that will undoubtedly be appreciated. For an extra touch, present it in a charming mason jar with a decorative ribbon.
If you're a fan of homemade BBQ sauces, be sure to try my jerk BBQ sauce, coffee bourbon BBQ sauce, and honey-sriracha BBQ sauce too!
Ingredients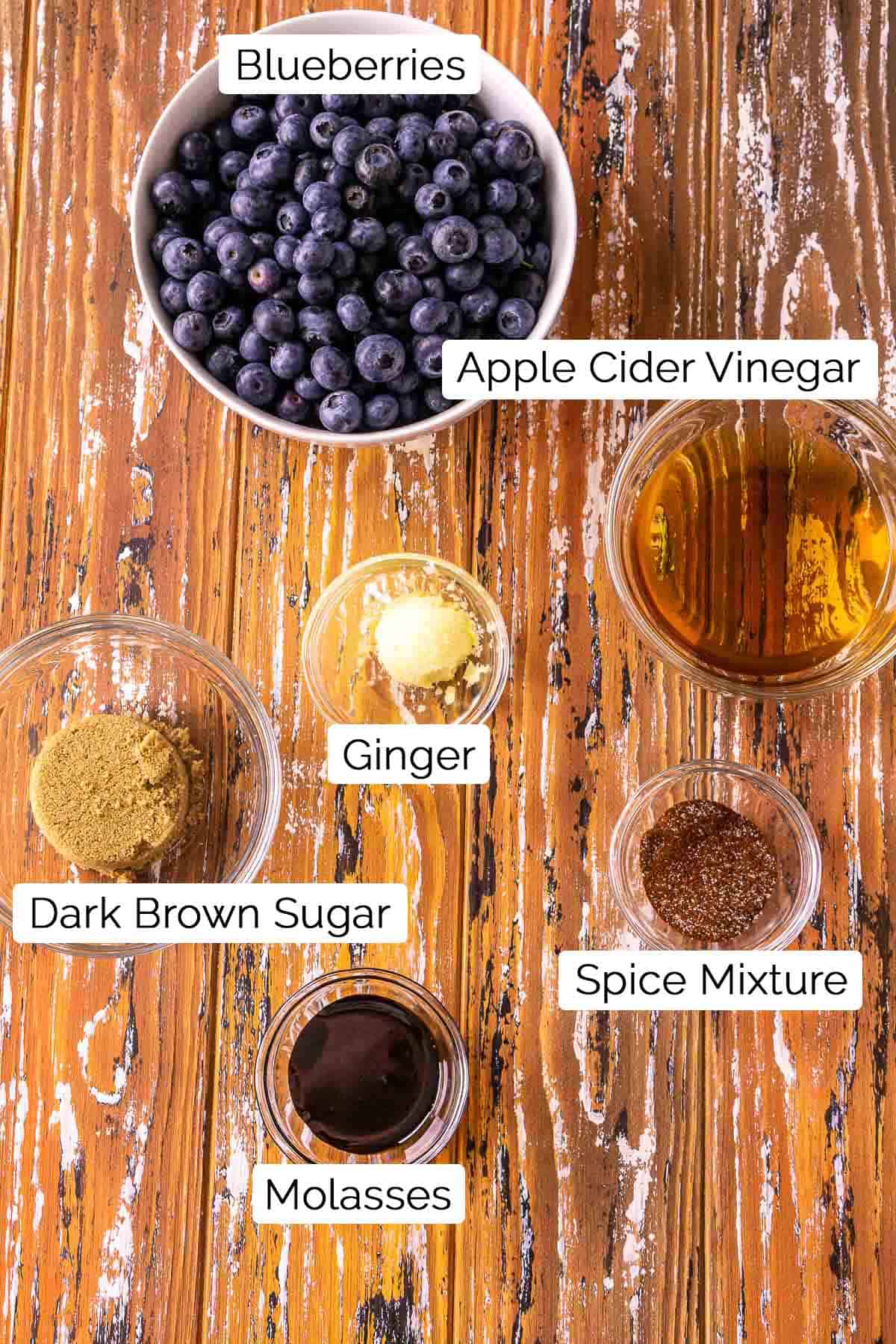 Let's take a closer look at the key ingredients you'll need for this recipe:
Blueberries: Fresh or frozen blueberries work equally well. If using frozen berries, there's no need to thaw them.
Spice mixture: A blend of chili powder, cinnamon, allspice, and salt adds a delightful warmth to the sauce. Chipotle chili powder, with its smoky undertones, lends extra complexity, but regular chili powder is perfectly fine.
Fresh ginger: The addition of fresh ginger brings a touch of warmth and complements the fruity flavor of the sauce.
Molasses: Opt for unsulphured molasses, which carries a sweeter flavor extracted from ripe sugar cane, providing superior taste.
Dark brown sugar: The use of dark brown sugar enhances the depth of flavor due to its higher molasses content. However, you can substitute it with light brown sugar if needed.
Step-by-Step Instructions
In a medium saucepan, combine the blueberries, apple cider vinegar, dark brown sugar, ginger, molasses, chili powder, salt, cinnamon, and allspice. Stir the ingredients over medium heat until well combined.

Bring the mixture to a boil, then reduce the heat to a simmer. As the blueberries cook, they will release their juices and break down. Initially, only a small amount of juice will be released, but over time, most of the mixture will transform into a luscious sauce.

Transfer the cooked berry mixture to a blender or food processor and blend until smooth and velvety.
See how effortless that was? In just three simple steps, you've created the best blueberry BBQ sauce.
How to Use
This fruit-based blueberry BBQ sauce pairs wonderfully with lighter meats such as chicken, pork, and salmon. However, it's versatile enough to complement larger meat cuts as well. Here are some delicious ways to enjoy this sauce:
Brush it onto smoked chicken.
Use it as a topping for smoked burgers or minted lamb burgers.
Slather it onto smoked pork ribs.
Serve it alongside smoked brisket.
Toss it with chicken wings.
Spoon it into a grilled cheese sandwich.
Enjoy it as a dipping sauce.
Use it as a base for a mouthwatering pulled pork pizza.
And to further indulge your blueberry cravings, try my blueberry shortcakes or Crock Pot blueberry cobbler for a delightful dessert.
Recipe FAQs
Variations
Feel free to experiment with other fruits like blackberries or raspberries as substitutes for blueberries. They'll work equally well in this recipe.
If you prefer a spicier kick, add more chili powder or even a pinch of cayenne pepper for some extra heat.
While this sauce leans towards tanginess, you can reduce the tang by using less apple cider vinegar or replacing it with sweeter balsamic vinegar, which adds a mellow acidity.
Expert Tips
Freeze ginger before grating: Frozen ginger grates more easily, ensuring a smooth texture. Simply peel and freeze a batch of ginger to have it readily available.
Protect your clothes and kitchen towels: Blueberry sauce can easily stain, so it's wise to wear an apron and use a kitchen-grade plastic spoon for stirring.
Use fresh spices: To maximize flavor, replace your spices every six months to ensure they remain vibrant and fragrant.
Perfect Pairing
To enhance the flavors of this blueberry BBQ sauce, pair it with a Belgian strong dark ale. The toffee and raisin notes in the malt beautifully complement the rich molasses and brown sugar flavors, while the fruity yeast esters enhance the blueberries, cinnamon, and allspice.
If you prefer wine, enjoy this sauce with a merlot. Its berry-forward profile and soft tannins make it an excellent match for the sauce and any accompanying BBQ rubs or spices. Alternatively, try a pinot noir for a lighter option.
For cocktail enthusiasts, the blueberry bourbon smash is an irresistible choice. The sweet, caramel-like bourbon notes perfectly harmonize with the berries and warm spices, creating a delightful summer sipper.
Let's elevate your summer barbecue with a batch of this fresh blueberry BBQ sauce. With its berrylicious notes and touch of spice, this sauce will be a seasonal favorite that keeps your guests coming back for more.
Cheers!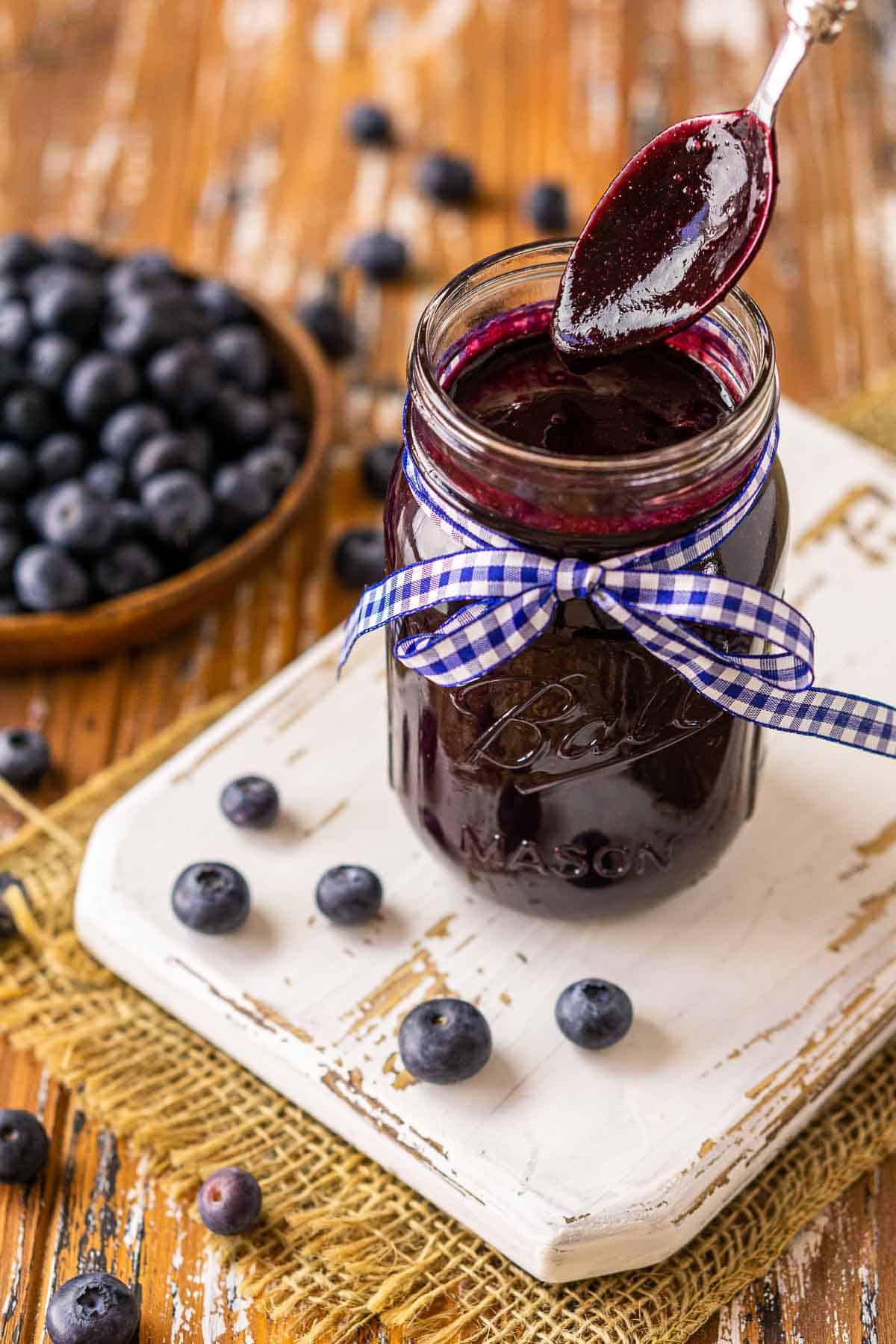 More Summer Barbecue Recipes
If you loved this recipe, please leave a comment with a five-star rating — or simply hit the five-star button in the recipe card. Don't forget to sign up for my newsletter, and you can follow me on Facebook, Instagram, Pinterest, and TikTok for more delicious recipes.