Memorial Day is just around the corner, and that means it's time to fire up the grill and indulge in some delicious BBQ burgers! Picture this: smoky bacon, gooey cheddar cheese, and crispy onion rings, all bathed in a sweet and tangy honey BBQ sauce. It's a flavor explosion that is sure to satisfy all your cravings. Let's dive into the world of BBQ Bacon Burgers and discover how to make this mouthwatering delight!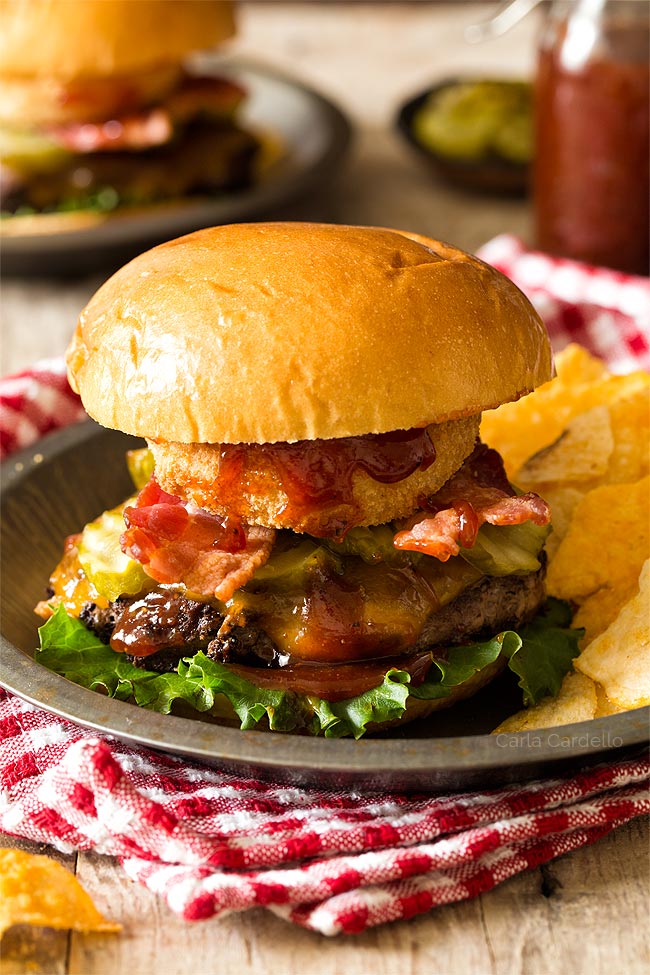 Ingredients For BBQ Bacon Burgers
To create your own BBQ Bacon Burgers, you'll need the following ingredients:
Ground beef: Choose a good fat-to-lean ratio for a juicy and flavorful burger. I personally recommend 80/20. You can even take it a step further and grind your own meat if you're feeling adventurous.
BBQ sauce: Whether you opt for a homemade honey BBQ sauce or your favorite bottled one, the choice is yours.
Lettuce: Add a fresh touch to your burger and balance out the richness.
Bacon: Precook your bacon before adding it to the burger. You can make microwave bacon or oven-baked bacon – the decision is yours.
Cheese: While cheddar cheese is the classic choice for bacon cheeseburgers, you can give it a spicy twist by using pepper jack cheese.
Pickles: These tangy delights bring a burst of acidity to counterbalance the richness of the beef and bacon. They're also a personal favorite snack of mine, so I'll add them to anything I can.
Onion rings: If you want to make your life easier, you can buy frozen onion rings and cook them in an air fryer while your burgers are grilling. For the ambitious ones, homemade baked onion rings are always an option.
Buns: Opt for sturdy brioche buns to support the weight of the burger and onion rings.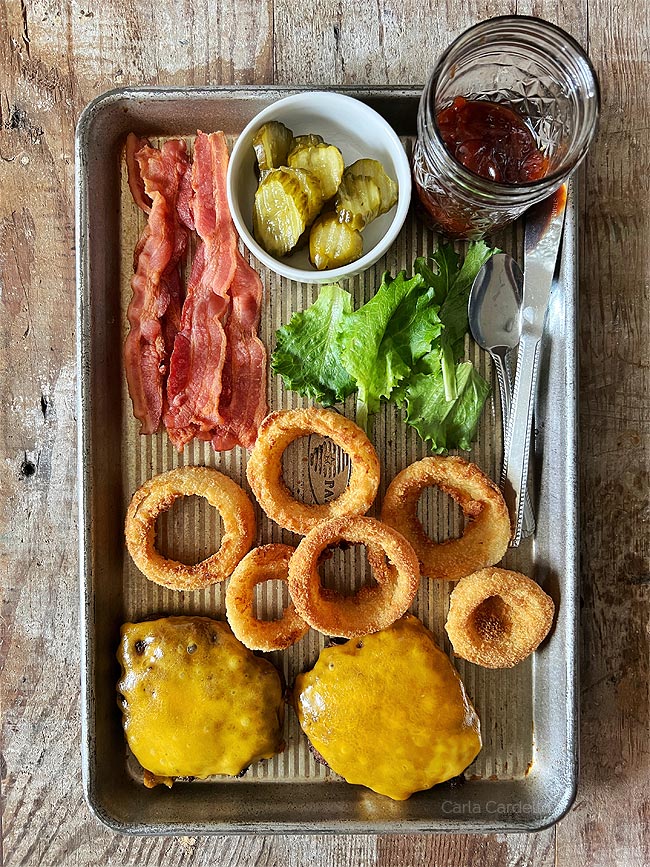 How To Make BBQ Burgers
Now that we have all the ingredients, it's time to dive into the cooking process. Here's a step-by-step guide on how to make BBQ bacon burgers:
Mix together your ground beef, onion, crumbled bacon, and salt. Gently shape the mixture into two 1/2-inch thick patties that are slightly larger than your buns. Avoid overworking the meat, as it can lead to tough burgers.
Create an indent in the middle of each patty with your thumb. This will help prevent the patties from shrinking during cooking.
Heat a large skillet with oil. Once hot, add your patties. Be prepared for some sputtering grease by having a splatter screen handy. Your stove top will thank you!
Cook each patty for approximately 4 minutes on one side, then flip and cook for another 4 minutes. Aim for an internal temperature of 160°F. During the last minute of cooking, top the patties with cheese to let it melt to perfection.
While the burgers are cooking, prepare your onion rings. This way, they'll be crispy and ready to be added to your burgers.
Assemble your BBQ bacon burgers by layering the lettuce, patty with melted cheese, crispy bacon, onion rings, and a generous drizzle of BBQ sauce. Place the assembled masterpiece between the brioche buns and get ready to indulge!
If you prefer grilling your burgers, you can check out this guide on how to grill burgers from Flavor the Moments. For an extra flavor boost, you can also add homemade caramelized onions and mushrooms from The Culinary Compass on top.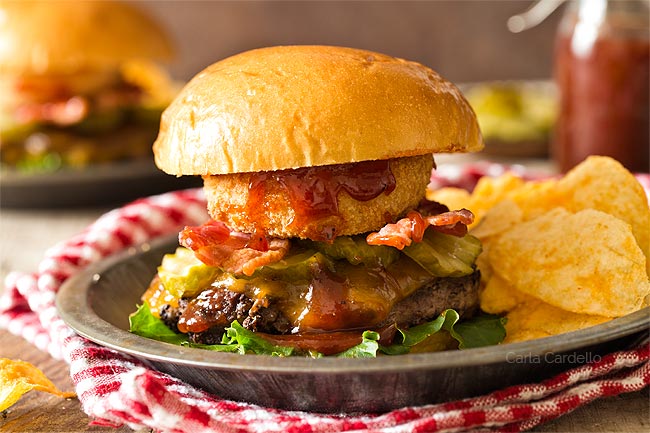 Can I Make BBQ Bacon Burgers Ahead of Time?
Absolutely! You can make your BBQ bacon burgers ahead of time, which allows for convenient meal prep and less time spent in the kitchen when you have guests over for dinner.
After mixing and shaping the burger patties, place them on a baking tray lined with parchment paper or plastic wrap. Cover the patties with another layer of plastic wrap to minimize air exposure.
You can refrigerate your homemade burger patties for up to 2 days. If you need to store them for longer, transfer them to a freezer-safe bag and freeze them for up to 3 months. When you're ready to cook, let the chilled burgers sit at room temperature for about 15 minutes to warm up before cooking as directed. This ensures that the patties cook evenly, preventing a raw middle or an overcooked exterior.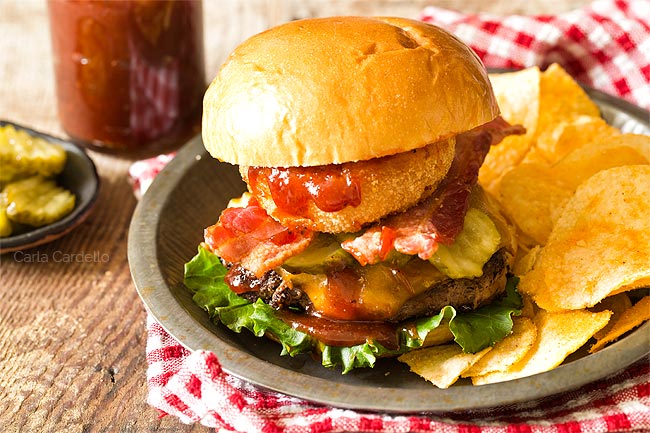 What To Serve With BBQ Bacon Burgers
No burger is complete without the perfect side dish! Here are a few suggestions to complement your bacon cheeseburgers:
Italian Potato Salad
Amish Potato Salad
Amish Macaroni Salad
Antipasto Pasta Salad
So, what are you waiting for? Fire up that grill, gather your ingredients, and get ready to savor the tantalizing flavors of BBQ Bacon Burgers. It's time to embrace the summer vibes and enjoy a truly satisfying meal!
First published May 24, 2022
Want to try more mouthwatering BBQ options? Check out Rowdy Hog Smokin BBQ for an unforgettable dining experience.