Imagine sinking your teeth into tender, juicy pork chops stuffed with fluffy Stove Top stuffing. The best part? You can effortlessly achieve this Thanksgiving-worthy meal in under 30 minutes! These air fryer stuffed pork chops are not only quick and easy to make but also incredibly delicious.
The Magic of Air Fryer Stuffed Pork Chops
Air fryer stuffed pork chops are a blessing for your taste buds. Whether you're short on time or simply craving a comforting dish, these pork chops will never disappoint. With the air fryer, you can achieve perfectly cooked, tender, and juicy pork chops, while the Stove Top stuffing turns golden-brown on the outside, remaining fluffy on the inside. It's an incredibly easy meal that suits both casual dinners and more formal gatherings.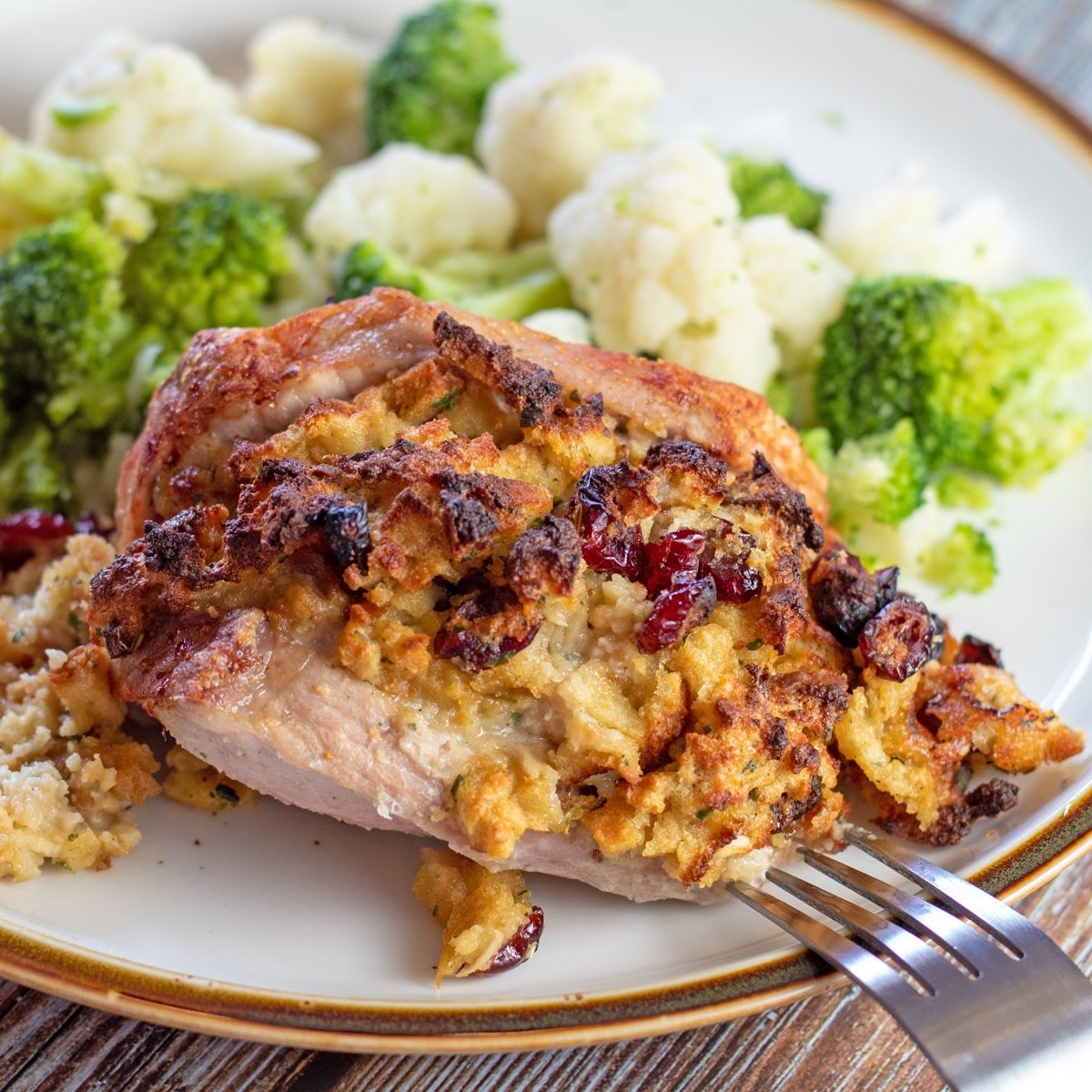 Ingredients that Enhance the Experience
To enhance the textural element of the stuffing, consider adding optional ingredients like onion, celery, and cranberries. These additions bring a lovely flavor and complexity to the dish. If desired, you can serve the gravy on the side, allowing everyone to add it to their own plate as they please.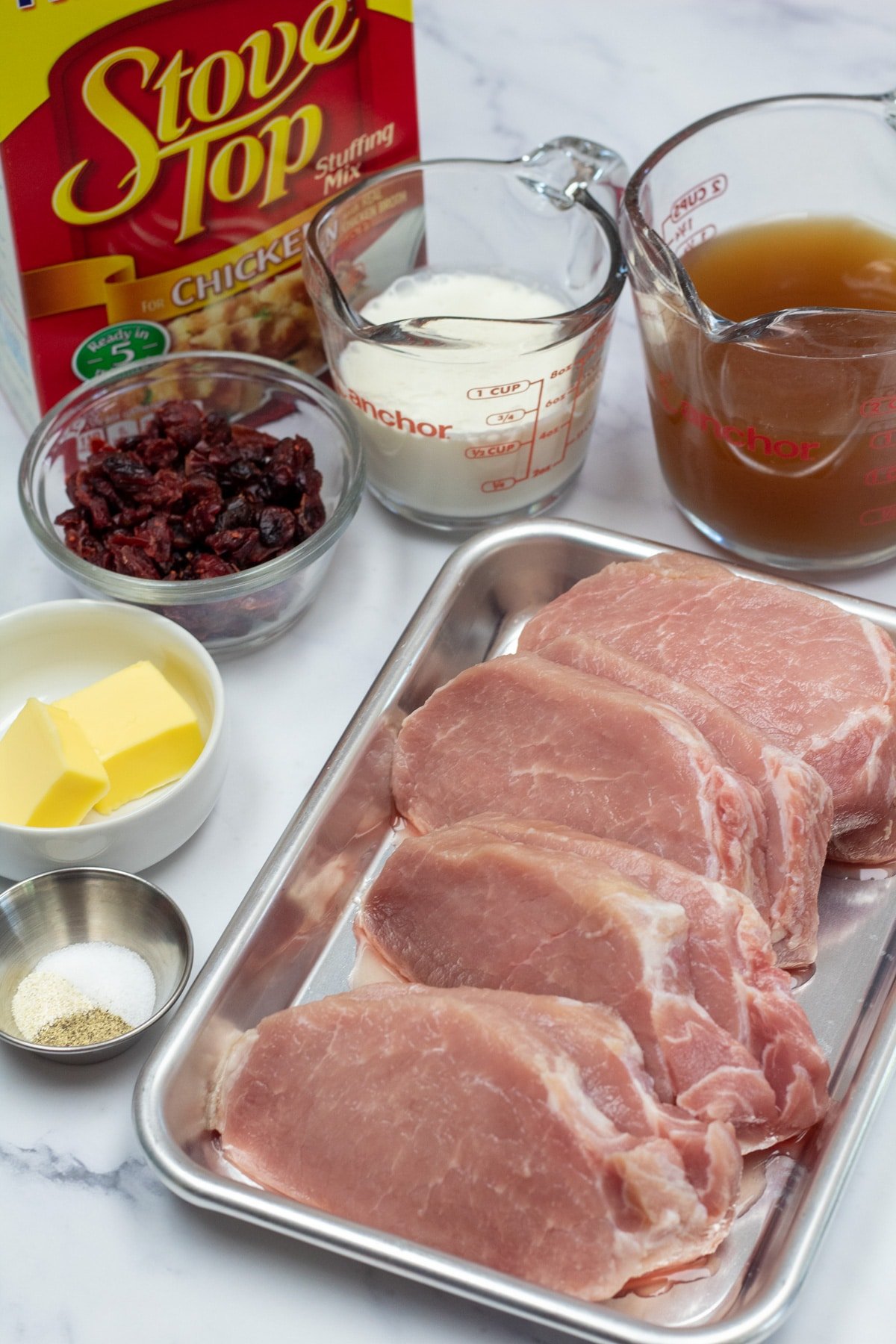 Chicken Broth – ½ cup broth or water.
Stove Top Stuffing – 6 ounces of boxed stuffing mix.
Milk – ½ cup.
Butter – 2 tablespoons.
Pork Chops – 1 ½ pounds of thick-cut boneless pork loins or bone-in pork chops.
Salt & Pepper – ½ teaspoon each (or more to taste).
Onion Powder – ¼ teaspoon.
White Onion (optional) – ½ cup diced white or yellow onion for the stuffing.
Celery (optional) – ½ cup for stuffing.
Dried Cranberries (optional) – ½ cup for stuffing.
Gravy (optional) – For serving.
Easy Steps for Irresistible Air Fryer Stuffed Pork Chops
Preparing air fryer stuffed pork chops is a breeze, thanks to the magic of your air fryer. Just follow these simple steps to achieve a mouthwatering meal:
Prep: Preheat your air fryer to 380°F (193°C). Meanwhile, heat 1 ½ cups of chicken broth in the microwave or on the stovetop until it boils.
Make Stuffing: In a large mixing bowl, combine the stuffing mix, hot chicken broth, butter, and milk. Stir well to combine. If you want to include optional ingredients, such as cranberries, celery, or onion, this is the time to mix them in.
Butterfly Pork Chops: Trim any excess fat from the pork chops and cut them ¾ of the way through the thickest part, creating a butterfly effect. Be careful not to cut all the way through.
Season: Sprinkle the salt, pepper, and onion powder over both sides of each pork chop.
Stuff: Fill each pork chop with approximately ½ a cup of stuffing. Transfer them to the air fryer basket.
Air Fry: Cook the stuffed pork chops in the preheated air fryer at 380°F (193°C) for 12-15 minutes or until they reach an internal temperature of 145°F (63°C). Allow them to rest for 5 minutes before serving. Top with gravy, if desired.
Serve your air fryer stuffed pork chops alongside microwaved cauliflower and broccoli for a complete and delectable meal. For more side dish ideas, check out our list of what to serve with pork chops.
Tips for Perfect Stuffed Pork Chops
I recommend using pork chops that are between 5-6 ounces each.
If desired, you can pan-sear the pork chops in a skillet before stuffing them for a golden-brown exterior.
If your family prefers softer vegetables in the stuffing, consider sautéing the onion and celery before combining them with the stuffing mix.
If your air fryer basket is too small to fit all the stuffed pork chops, cook them in batches to ensure proper airflow for even cooking.
Storage and Reheating
Refrigerate any leftover air fried pork chops in a shallow airtight container for up to 3-4 days. To reheat, place the pork chops in a baking dish or pan with a splash of broth. Cover with foil and bake at 350°F (180°C) for 10-15 minutes or until they reach an internal temperature of 145ºF (63°C). Alternatively, you can return the pork chops to your preheated air fryer and heat them at 350°F (175°C) for 6-8 minutes, or until heated through.
Discover More Air Fryer Delights
If you're hungry for more air fryer recipes, here are some delectable options to explore:
Thick Cut Pork Chops
Pork Belly
Duck Legs
Sausage & Peppers
Chicken Thighs
Lamb Chops
Enjoy the convenience and irresistible flavors of air fryer cooking with these mouthwatering recipes!
For the complete recipe, please visit Rowdy Hog Smokin BBQ.